Replacement button wheels for the switch unit
of the BMW Fxx M-sport steering wheels (L + R)
It happens very often that the button wheels of the multifunction steering wheel are worn out and no longer look beautiful.
However, the switch unit is very expensive. With these replacement button wheels, you can quickly and inexpensively upgrade the interior of your vehicle.
You will receive an illustrated instruction for the conversion of the button wheels. The airbag does not have to be disconnected to remove the button units.




Suitable for switch unit with and without buttons for distance control (ACC)




For questions, just let me know.
Delivery:
1x button wheel on the left (cruise control)

1x button wheel on the right
Instructions (in German)

Used for:
F Series //M sport steering wheel with round airbag!


In any case, please compare the button wheels before buying. Does only fit at the //M sport type. Length 16 mm.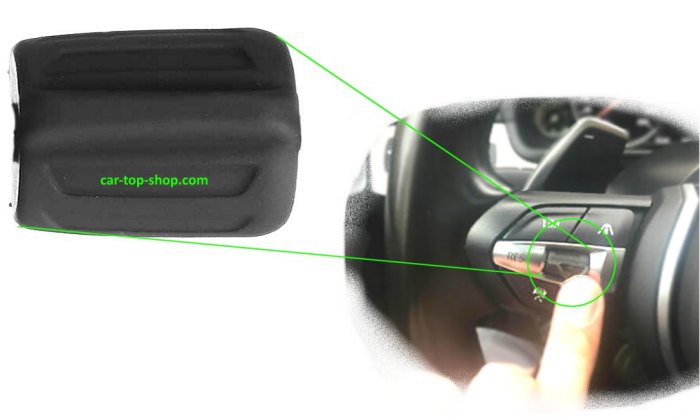 Fits for the following Series:


1' Series
+F20 LCI
+F21
+F21 LCI
2' Series
+F22
+F23
+F45
+F46
+F87
3' Series
+F30
+F80
+F80 LCI
+F30 LCI
+F31
+F31 LCI
+F34
+F35
+F35 LCI
4' Series
+F32
+F33
+F36
+F82
+F83
5' Series
+F07 LCI
+F10 LCI
+F11 LCI
6' Series
+F06
+F06 LCI
+F12
+F12 LCI
+F13
+F13 LCI
X1 Series
+F48
X5 Series
+F15
+F85
X6 Series
+F16
+F86


You can find the manual here. www.turbochip.at/manual/bmwmfl/

Button wheels for the BMW F series M sport steering wheel
Product Code:S-BMFT2LR-M
Availability:In Stock
29.99€

24.99€

Ex Tax:20.83€
Related Products